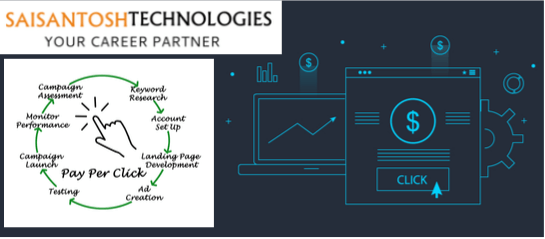 Advanced PPC Training in Hyderabad
Register for Basic and Advanced PPC Training in Hyderabad from SaiSantosh Technologies to get the most from Google AdWords, Facebook Advertising, Twitter and Pay Per Click ads.
Through our course, effectively learn and master the PPC skills; fully Optimise your accounts on different PPC Platforms and generate maximum results from PPC.
We follow the best PPC practices. We teach you on how to create successful campaigns to drive massive targeted traffic to the website strategically to outclass the competition and generate maximum ROI.
In other words, show your ad only to the audience interested in your products or services.  Exclusively take control on how much you need to pay for each click.
Learn every concept involved in PPC (Pay Per Click) here right from Account setup, well-structured campaign creation to Extensive Reporting and Billing, etc.
We also teach you on how to continuously manage and monitor the necessary results at regular intervals to save money. Effectively learn on how to act upon the KPIs (key performance indicators) to assess and fine-tune your PPC strategy to boost CTR and conversion rates.
Join our PPC Course in Hyderabad designed by real time experts, complete certification, and work on Live-projects to gain the much-needed practical knowledge and maximise performance. At the end of the course, you are in a position to create your PPC campaigns to achieve your business goals and stand out in today's ferocious competitive online marketplace.
In brief, what you study are listed below:
Introduction to PPC (pay per click)
Steps involved in PPC Advertising
Competitor Research
Keyword Research
Keyword Match Types
Campaign Creation in PPC
Campaign Management
How to write Ads
Bidding Strategies
Landing Page Creation
Remarketing and Conversion Tracking
Tracking and Analysis
Budgeting and Forecasting
PPC Tools, etc.,
Certification
SaiSantosh Technologies the best institute for Digital Marketing Course in Hyderabad will teach and assist you in every stage of the campaign creation in different PPC platforms, Like Adwords training in Hyderabad or SEM training.
Call now 8099197010 to discuss your requirements in detail.